Overview
Services contracts present with waste removal, like utility bills, can contain costly errors. While refunds are less common, monthly cost reductions can be much more substantial than with an energy audit. In fact, in some instances, our auditors have been able to create more than a 60% reduction in monthly costs.

CONSULT
Access 16 cost-saving solutions spanning 4 subcategories (Utilities, Contract Services, Financial Services, and Commercial Real Estate). There is often one, or more, areas in which we can aid our clients.

AUDIT
Our Auditors deploys proprietary knowledge, methods, and superior technology to thoroughly analyze invoices and services for errors, anomalies, and inefficiency in billing. Clients can login to track the progress of each audit, at each location, in "real time" using our Client Portal.

ADVISE
An interim report of findings can be downloaded at any time during the audit process through our Client Portal. A formal report of our audit recommendations is provided by our Auditors on every audit project.

DELIVER
Where some audit firms simply make recommendations, our Auditors will assist you to implement the cost savings and obtain the refunds that we identify. We will act as your project lead, completing paperwork and compiling claim documents for your review that are required to realize the benefit of what we propose.

ACHIEVE
As a contingency-based service we only invoice for cost savings and refunds if, and after, the client realizes them.
Technology / The Client Portal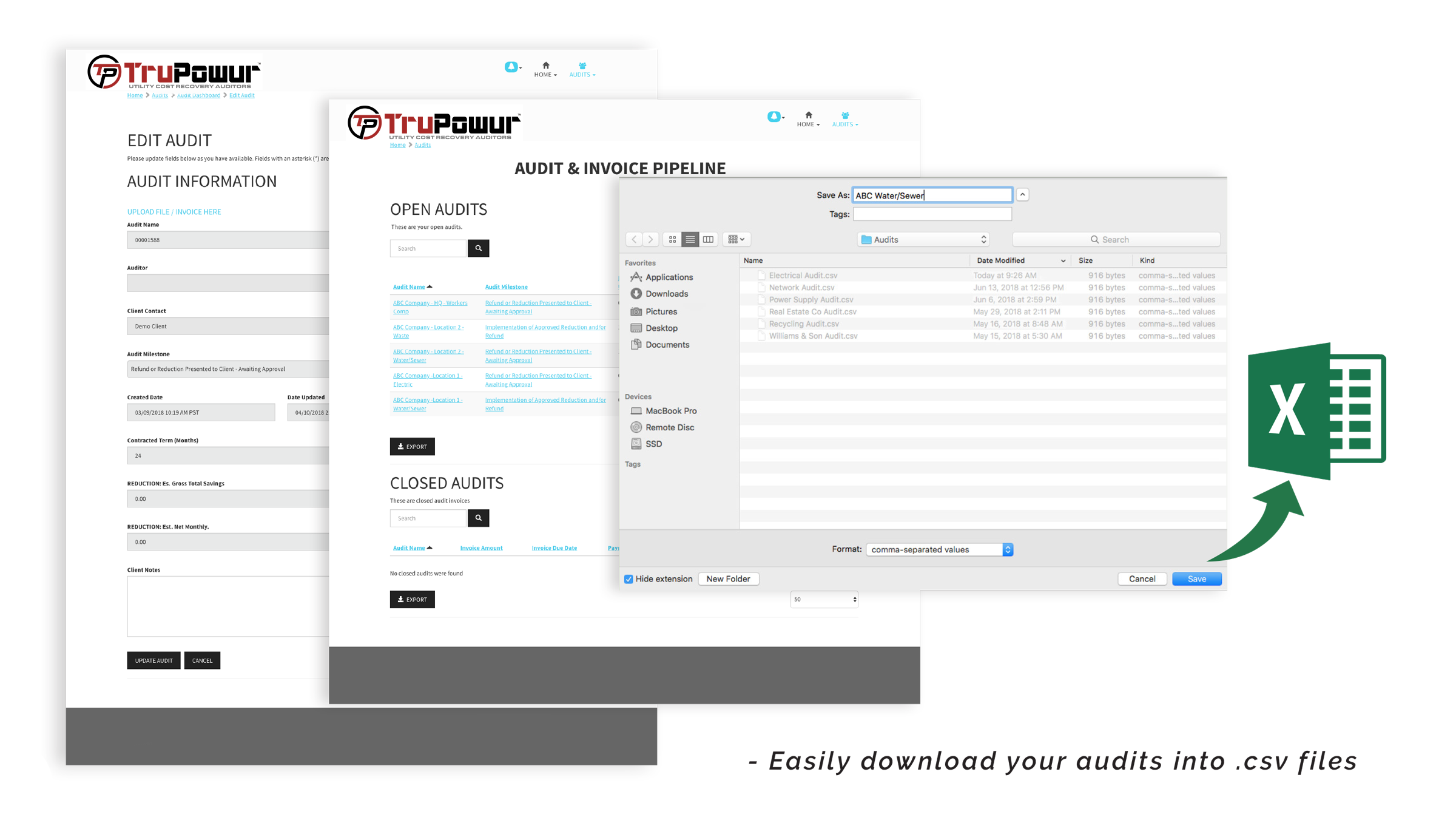 We understand that one of the most important aspects of completing a multi-audit project, potentially with many locations, is visibility. As the client, you want to know what we have found, where and in what cost centers we found it, and what net benefits to expect.
Our Portal provides updates for each audit at each location in progress including steps such as:
Docs Missing – Provider
Docs Missing – Client
Potential Reduction and/or Refund Identified
No Opportunity Present
Additionally, you will be able to view notes on each audit as provided by the Auditor, and will have the ability to respond to questions or requests within the portal.